I met Luiza Margan in 2015, at a conference held in UGM Maribor in the frame of an exhibition entitled Heroes We Love. Ideology, Identity and Socialist Art in New Europe. She was talking about her action in public space entitled Eye to Eye with Freedom (2014) and the one word that stayed in my mind after her presentation and echoes each time I think about her work is "playfulness".
Eye to Eye With Freedom
action in public space / series of photographs, Rijeka, Croatia, May 2014.
Indeed, Luiza Margan operates in realms and ways you would the least expect her to do so. She surprises, confuses, provoke smiles, favours knowledge by acquaintance over knowledge by description, and has clearly defined intentions behind her approach, one of them being the reappropriation of the past in a subtly humorous way.
In terms of media, she works with photography, video and sculpture, but involves also her own body – and bodies of others – as a tool in her performative actions.
Thematically speaking, she is constantly looking for subjects and impressions related to her environment, engaging mainly with socio-economic, political and artistic processes which restructure the public space, through interventions, actions and installations.
Her interest embraces historical contexts – especially the socialist legacy and its ideological symbols – as well as everyday occurrences, with an emphasis on the condition of labour and gender within changing social technologies and on the invisible aspect of work, its critique and representation.
The last chapter of this contribution to Art Spy, dedicated to the different forms of identification, focuses on two of her interrelated pieces, the aforementioned Eye to Eye with Freedom and Restaging monument, both from 2014.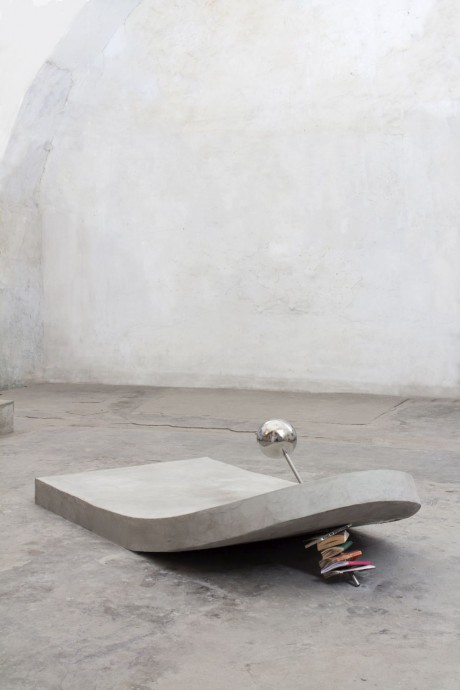 Tongue, concrete, metal,books, 2015.
The consecutive series titled Restaging monument is based on photographs that the artist acquired from the family archive of the monument's sculptor Vinko Matković, posing during different stages of its production in front of the sculpture.
Playing with the pathos and the theatricality of the established master's self-representation, Luiza Margan juxtaposes these scenes of "the artist at work" with photographs showing herself in physical exercise. The lines of her body and the additional elements she uses – a ladder, pieces of wooden or metal scaffoldings – are intruding, repeating, continuing or interrupting lines of scaffoldings or parts of the sculpture.
She plays with and cheekily deconstructs the usual setup of the male artist as the active creator, versus the female model considered as static, passive muse, a norm first overthrown by Marcel Duchamp and his feminine alter-ego Rrose Sélavy. This sculptural collage is a statement to the bare monument, to female physicality, in which the artist's body becomes a tool of reclaiming its own power.
[1] The monument is the work of Vinko Matković, inaugurated on occasion of the 10th anniversary of the liberation of Rijeka on May 3rd, 1955.