Photo: Australia Pavilion at Osaka Expo'70
The notion of future is one of my main areas of research. It has become a personal, daily obsession. This goes back to my PhD studies, while analyzing the relationship between art and sound throughout the twentieth century and today. Later on, the notion of future took a central role in some of my curatorial projects and my writing practice, from a critical fascination and through the work of authors such as Fredric Jameson and Rossi Braidotti, but also science fiction and its speculative effectiveness and philosophical potential. However, I have conducted all of this research from a clearly Western standpoint, which I obviously cannot avoid entirely since it is my cultural backdrop and framework.
Many people of my generation grew up influenced by Japanese popular culture. On TV broadcasting anime series were habitual. There is the cliché and also the fact that Japan represented the future because of its strong technological development. When exploring the future, Japan remains a strategic point. As a starting point I proposed to consider the effects of Expo'70 in the Japanese collective imagination, even beyond the host city of the expo, Osaka. This exhibition exemplifies the classic paradigm of utopian progress which science fiction often aims to challenge by means of dystopia. Japan has also been an interesting case study and a constant source of dystopian narratives for the West, with countless examples coming from the fields of art, film, manga and other media. My research consists of two distinct parts: on the one hand to research around science fiction as a privileged medium when thinking about the future and on the other hand to have conversations with a number of agents from Sapporo's cultural and artistic contexts around the notion of the future and its impact on Japanese reality.
For now travel machines only exist in science fiction. But even in fiction, time travel match cuts always have malfunctions. As if the stories and events could also suffer jet lag. While it is not possible to travel in time, we may travel a few hours forward or backward. From this perspective, traveling to some countries is to land in the future, while travel to other is to touch down in the past. Since a single country can work in both ways, a possible rule would be: if we move westwards we go back to the past, if we move eastwards we are going to the future.

To advance, literally, it is to move forward. Symbolically, it means progress. But what is this progress that has been imposed on us? So far we have understood it as something closely linked to technology. As a result, the equation would be: progress equals development; development equals technology. But, could there be other forms of progress with a different meaning, thus detached from technological exaltation?


If there is a country that we still associate with the notion of the future, it is Japan. On the one hand, if we move from Europe to Japan it means moving eastwards and therefore move a few hours in the future. On the other hand, Japan is a society in which technology is a constant, tangible even in the most routine activities. It is also the place of origin of many dystopias and science fiction stories that combine their own mythology with the technological evolution and natural disasters in a country that quickly joined the future after World War II. And where the existence of virtual singers like Hatsune Miku - an unageing 16-year-old girl with long, turquoise twintails - is something not only possible but real. Although even virtual identities can behave in traditional ways, like pop stars from the 90s.

In 1970 the World Expo in Osaka took place. Its slogan: Progress and Harmony for Mankind. These were times of futuristic exaltation. It was still believed that technology would make the world a better place. However, before the general crisis of the idea of progress, science fiction showed that technology is neither neutral nor innocent. Astroboy, Ultraman or Doraemon were already popular then. Later Space Battleship Yamato, Galaxy Express 999, Mobile Suit Gundam, Future Boy Conan, Nausicaä of the Valley of the Wind or Akira appear. In the 50s, the kaiju film would be inaugurated with Godzilla, a product of nuclear dystopia now coming back with full force. In the 60s Miss Bokko, by Shinichi Hoshi, the first female android in Japanese literature appeared. Also the military history of Japan was altered in Sakyo's Komatsu Peace on Earth, who was involved in the organization of Expo'70.
In Japan, time travels began long before science fiction, with the popular legend of Urashima Taro. Doraemon comes from the future, but many other characters prefer to head into the future, like the protagonist of Yasutaka Tsuisui's The Girls Who Leapt Trought Tim. We might think science fiction as a strategy for traveling into the future. Or, rather, as a way to become archaeologists of the future. Since the future is aging much faster than the past, the futuristic quality of the future becomes obsolete very soon. Perhaps the future needs a new way of being understood. But how?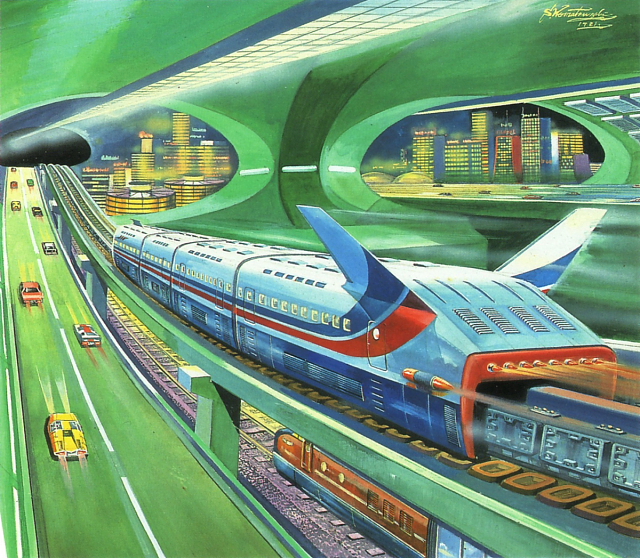 Photo: Illustration by Shigeru Komatsuzaki
Barcelona based Sonia Fernández Pan is the Curator-in-Residence at S-Air Sapporo from August to September 2016, researching around the notion of future in Japanese society.